Protection of child molesters and other criminals by
corrupt Police and other Government Officials in Victoria.
What follows is a copy of a document tendered before a Senate inquiry on 14th October 1997 in Melbourne.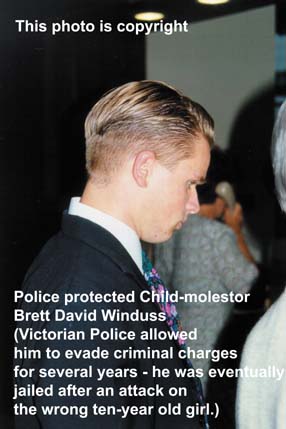 Recently there has been substantial publicity given to protection of high-ranking officials who are also paedophiles or actively protecting paedophiles and other criminals in NSW. There is similar protection of these criminals in Victoria. Likewise for other states including South Australia and Western Australia.
For some years known child molester Brett David Winduss, of Oswin Street, Kew, Victoria, was allowed to engage in serious criminal activity with full knowledge of government officials in Victoria.
Winduss's criminal activities had become known to authorities as far back as 1991, but he was allowed to continue for several reasons, including due to his being a rent-a-witness used by corrupt Police to prosecute innocent people of crimes they hadn't committed.
Winduss would be called as a witness and falsely swear (commit perjury - another serious jailable offense), that the accused (innocent person) had committed crimes that they hadn't done. (By the way, Winduss has even (accidentally) admitted to doing this in a tape recorded conversation). It appears to be a common practice by Victorian Police to use known criminals as rent-a-witnesses in court cases against innocent accused (usually corruption whistleblowers), in order to secure convictions against them. In return the rent-a-witnesses are not prosecuted for their crimes which include serious matters such as drug trafficking, assaults, thefts, murders and child molesting.
On May 3rd 1996, Brett David Winduss came unstuck when he was jailed for some of his varied criminal activity. He was jailed by County Court Judge Roland P. L. Lewis for 12 months after pleading guilty and being convicted of abducting/molesting a 10 year old child in Mount Street, Kew. This incident happened on Wednesday December 27th, 1995. Winduss was intercepted by a neighbor who had noticed the girl's pushbike apparently abandoned on the footpath.
The sentence for this offence was notably light and this is no doubt due to the fact that the case was heard by a Judge who is known to have aided and abetted corruption in Victoria and has a reputation for being a "Police Judge".
Prior to this case, Winduss's criminal activities had been known to many corrupt officials and/or brought to their attention, who were betraying public trust by protecting him and actively ensuring that he was not brought to justice - in other words allowing him to continue. Included among those who were protecting him were the following people.
State Politicians, including Victor Perton, MP for Doncaster, David Perrin, MP for Bulleen, Jeffrey Gibb Kennett, Victorian Premier, and others.
Police Officers, Richard George Valentine, Craig Sharkie, Joan Spence, key officers in the Internal Investigations Division and others.
State Ombudsman's Office Officials, Barry Perry and others.
Magistrate Iain West.
County Court Judge Gordon Lewis.
In a separate case on October 14 1997, Judge Nixon of the County Court allowed child molester Gregory Vincent Coffey (48) of Stoney Creek Road, North Warrandyte to walk out of the County Court a free man after he was convicted of indecently assaulting two school boys, while principal at Preston Catholic School. Coffey was able to walk free from the court without even so much as a paying a fine. He was not jailed either, giving the man further encouragement to re-offend, knowing that the judiciary had no concern for such crimes. That the last statement is true is borne out by Coffey's past performances.
This is not the first time the repeat child molester (Coffey) has been protected by the judiciary. In at least two previous cases, allegedly corrupt Magistrates had allowed Coffey to walk free from Preston Court after he'd been found guilty by the court of assaulting students. He had been similarly protected for his illegal and indecent assaults on young people by the South Australian authorities when caught out in that state. A South Australian court allowed Coffey to walk away without paying a fine or any other penalty after he was found guilty of yet another indecent assault.
Nixon has substantial form for being biased against corruption whistleblowers, while at the same time being lenient on hardened criminals whose activities are often supported by corrupt Police.
In a separate case, Nixon unsuccessfully attempted to direct a jury to convict "NAME SUPPRESSED" on a falsified charge of make threat to kill against three members of State Parliament. The jury refused Nixon's wishes and acquitted him.
In a later case that was also heard in front of the same Judge (not by chance I might add), "NAME SUPPRESSED" wasn't so lucky. In this case, the same informant for the above case, Victorian Policeman John Cullen, falsified a charge against "NAME SUPPRESSED" that he had threatened to kill him. That the charge was a fabrication was easily demonstrated, but Nixon clearly aided in perverting the trial to ensure the jury made a guilty verdict against "NAME SUPPRESSED". Notable is the illegal contact by Cullen with the Jury during the course of the trial, no doubt to ensure that a guilty verdict was reached.
"NAME SUPPRESSED" was then jailed for four months, whereupon it was arranged for him to be brutally bashed in prison (nose broken and other serious injuries) and his house burgled. In spite of the fact that "NAME SUPPRESSED" lodged an appeal against the wrongful conviction, he was forced to serve the full term in jail. The conviction was overturned by the Supreme Court and "NAME SUPPRESSED" was totally exonerated. An application to the State Government for compensation has been refused on the basis that "NAME SUPPRESSED" may spend the proceeds exposing further corruption. Therefore he has not been paid a cent.
The Police officer who falsified the charges against "NAME SUPPRESSED" hasn't been punished either. In the second trial, Cullen illegally harassed a juror as he boarded a train during the course of the trial. It is thought that this is not the only such activity that occurred during that case.
Cullen also engaged in other illegal activity and appeared to be able to get away with it on the basis that he was a Victorian Police officer.
On another occasion, he was busted by security staff at K-mart in East Burwood (a Melbourne suburb) for stealing a hair dryer from the store. The appliance was worth a mere $35. When caught by the female security officer, Cullen flashed his Police badge at her and asked to be let off as he was in the same business. This was the undisputed evidence given at later court hearings. Cullen was fined both in the Magistrate's Court and again following his unsuccessful appeal to the County Court. In both cases, Cullen applied to be let off on the basis of him being a Police officer. The tactic would probably have succeeded, noting the corruption of the State's judiciary other than the fact that a large media contingent were present for both cases.
In relation to the second fabricated threat to kill charge against "NAME SUPPRESSED", later proven as falsified, Cullen pulled off what can only be described as another amazing stunt. He successfully applied to the Crime's Compensation Tribunal (A Magistrate) for compensation and was paid many thousands of dollars in "damages" for alleged stress. After it was shown that his claim was apparently fraudulent by the exoneration of "NAME SUPPRESSED", there was no attempt to have the funds paid back.
Cullen has since retired from the Victoria Police. Like many other retired Police in Victoria, Cullen appears to have come into substantial wealth and assets including it is understood a number of large and highly successful restaurant businesses, including in the Melbourne Central Business district. These he could not have possibly obtained on his Police wages alone, noting his relatively junior position.
In Victoria there is no anti-corruption watchdog as such. The State Ombudsman's office alone allegedly fits that role, and as a department they are demonstrably corrupt. In opposition, the now State Government stated that they had no confidence in Mr. Barry Perry, State Ombudsman (then Deputy Ombudsman). Since assuming office in 1992, the Liberal Party have not sacked him, but instead chosen to maintain the status quo. The media in Victoria has also been effectively gagged from reporting most corruption it becomes aware of. This includes that detailed above. Most of the people listed above as protecting Winduss have also been actively ensuring that no media report this and other corruption cases. They have generally been successful in their aims. This material here is presented on a USA internet server due to the fact that similar material has been illegally wiped from Australian servers several times.
Melbourne readers of this material are advised not to expect it to be reported in either The Herald Sun or The Age newspapers. Both are effectively gagged by the State government on reporting such corruption. This is true in spite of any statements to the contrary by these organisations, the proof being in their lack of reportage.
Independent verification of the above is quite simple and may be done by a routine check of Court and criminal records for David Winduss and the others named above, including the Judges, Politicians, etc, and could be done by anyone within a matter of a few days.
A book detailing corruption in Victoria, The Hoser Files was banned after release in 1995, and a later book Smuggled-2, was also illegally banned in that State, even though it had only passing references to corruption in Victoria and even though three attempts to have the book banned through the courts failed. Two attempts to ban The Hoser Files through the courts also failed, due to the fact that every word in the book was 100% accurate, a fact even conceded by government officials in a case that ran from late 1995 to 1996. It is notable that one of the key movers to have both above books banned was MP Victor Perton, who incidentally had been allowing Winduss and others to continue their criminal activity for some time. Perton has routinely resorted to illegal activities to enforce his illegal bans on the two books as well as other publications that expose corruption involving himself and and/or others, including some who he has been protecting. Typically he resorts to making false and defamatory statements about the author and others in an attempt to bluff others into not reporting the same. When this fails, he then makes direct and equally illegal threats. He is backed by the entire financial resources of the State Government which he has repeatedly stated will fund him in any legal battles he has. As no private person can compete against such resources, Perton tends to get his way on such matters, even though his actions are 100% illegal, being in violation of both domestic laws and international laws, that Australia is party to.
For those who want to know more about Winduss's earlier criminal exploits it is suggested you read The Hoser Files, which also has his photo published in the book. It is stressed here that Winduss's criminal activities are not what concern most people, in as much as if he is caught he should be penalized and jailed if the offense warrants it. What is of concern is the degree of protection and support he has been given by the above named Police and other government officials and the fact that the case of Winduss is anything but unique, but instead rather fairly routine.



The Hoser Files - The Fight Against Entrenched Official Corruption is full of details, including, names, photos, etc.. It has 322 pages and costs $20 (U.S. or Australian currency) It's available from Kotabi Publishing, PO Box 599, Doncaster, Victoria, 3108, Australia (Add $5 a book postage). To order online

OTHER SITES DETAILING POLICE AND POLITICAL CORRUPTION IN VICTORIA AND ELSEWHERE IN AUSTRALIA
VICTORIAN GOVERNMENT ILLEGALLY BANS A MAGAZINE - WHO WAS GUILTY FOR THE MURDER OF PETER COE???
RAYMOND HOSER'S LATEST BEST-SELLER SMUGGLED - 2 (KOTABI MEDIA RELEASE)
CLICK HERE FOR RECENT REVIEWS OF BOTH SMUGGLED AND SMUGGLED-2

Non-urgent email inquiries via
the Snakebusters bookings page at:
http://www.snakebusters.com.au/sbsboo1.htm

Urgent inquiries phone:
Melbourne, Victoria, Australia:
(03) 9812 3322 or 0412 777 211